As Christ's church, we are led by our Lord Jesus Christ , who maintains all authority and power over His creation. As the head of the Church, Jesus has given each congregation leaders. The Bible teaches that the church is to be lead by elders and by deacons(Acts 15:22–23; 16:4; Phil. 1:1; 1 Tim 3, 5; Titus 1:5; Jam. 5:14; 1 Pet. 5:5) .
Our elders are (from left): Mr. Blake Neill, Mr. Mike Atkeison, Rev. John P. Sartelle Sr., Mr. Bill Rhea, and Rev. Tyler Kenyon.
Our deacons are (from left): Mr. Justin Germain (chair), Mr. Rick Abernathy, Mr. Russ White, and Mr. Ronald Jenkins.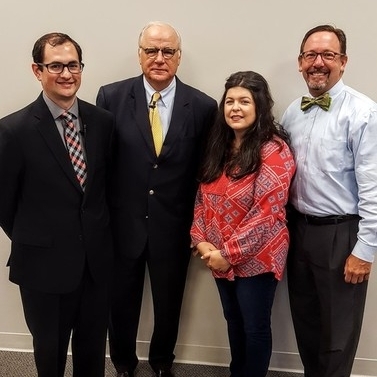 [Left to right]
Assistant Minster: Rev. Tyler Kenyon (contact)
Tyler is married to Jessica and they have three boys, Joel, Luke and Calvin. Tyler and Jessica are from Arkansas. He is a graduate from John Brown University (B.A. Biblical & Theological Studies) and Covenant Theological Seminary (M.Div). Tyler enjoys all sports. He cheers for the Razorbacks, St. Louis Cardinals, and LeBron James. He can also be found cycling all over Fayette County (Strava).
Senior Minister: Rev. John P. Sartelle Sr.
John has served as senior minister to four different churches. John is also the author of the book What Christian Parents Should Know about Infant Baptism. John has three grown children and nine grandchildren.
Children's Ministry Director and Church Administrator: Kimberly Abernathy (contact)
Kimberly is married to Rick and they have two boys, Austin and Landon. Previously from Memphis, she became a resident of Fayette County in 2001. Kimberly joined the staff of Christ Pres over seven years ago as the Children's Ministry Director and the following year began to also serve as the Church Administrator.
Music Ministry Director: Jay Walker
Music, specifically sacred music, has long been a part of Jay's life. Growing up in Somerville, he began serving a small country church at age 12. Since then he has accompanied, directed choirs, led church music programs and conducted concerts and programs. When he's not making music, Jay can be found working on his 100 year-old family home (it's sometimes a love-hate relationship) or cheering his daughters in volleyball and basketball.